We are excited to announce that the Xamarin Forums are moving to the new
Microsoft Q&A experience
. Q&A is the home for technical questions and answers at across all products at Microsoft now including Xamarin!
We encourage you to head over to
Microsoft Q&A for .NET
for posting new questions and get involved today.
Xamarin.Essentials reports wrong Orientation on emulator
I've created this very little application that should tell me the orientation of the device using Xamarin.Essentials. It works fine on my Huawei P30 Pro Phone. Is this an emulator related problem?
The Emulators are the Pixel_3_q_10_0_-_api_29 and tablet_m-dpi_10_1in_pie_9_0
Here's the code:
using System.ComponentModel;
using Xamarin.Forms;

namespace OrientationProblem
{
    // Learn more about making custom code visible in the Xamarin.Forms previewer
    // by visiting https://aka.ms/xamarinforms-previewer
    [DesignTimeVisible(false)]
    public partial class MainPage : ContentPage
    {
        public MainPage()
        {
            InitializeComponent();

            Xamarin.Essentials.DeviceDisplay.MainDisplayInfoChanged += DeviceDisplay_MainDisplayInfoChanged;

            Orientation.Text = Xamarin.Essentials.DeviceDisplay.MainDisplayInfo.Orientation.ToString();
        }

        private void DeviceDisplay_MainDisplayInfoChanged(object sender, Xamarin.Essentials.DisplayInfoChangedEventArgs e)
        {
            Orientation.Text = e.DisplayInfo.Orientation.ToString();
        }
    }
}


<?xml version="1.0" encoding="utf-8" ?>
<ContentPage xmlns="http://xamarin.com/schemas/2014/forms"
             xmlns:x="http://schemas.microsoft.com/winfx/2009/xaml"
             xmlns:d="http://xamarin.com/schemas/2014/forms/design"
             xmlns:mc="http://schemas.openxmlformats.org/markup-compatibility/2006"
             mc:Ignorable="d"
             x:Class="OrientationProblem.MainPage">

    <StackLayout>
        <!-- Place new controls here -->
        <Label x:Name="Orientation"
               HorizontalOptions="Center"
               VerticalOptions="CenterAndExpand"
               FontSize="Large"/>
    </StackLayout>

</ContentPage>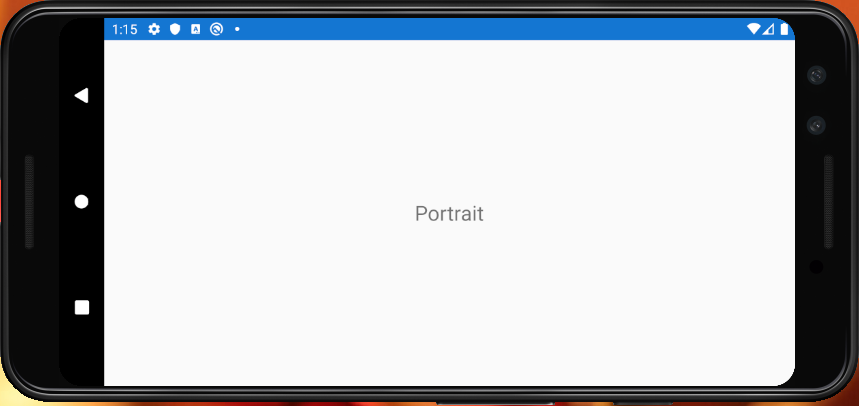 Tagged: