I'm currently facing a problem adding transparency to a bitmap in a Xamarin.Forms Image view.
The image is retrieved from the gallery, and converted to PNG format.
Pixels are iterated and with some of them, their alpha value is set to 0 (fully transparent).
Bitmap is converted to SKBitmapImageSource and shown in an Image view.
Result (top), and original (bottom), taken on Android: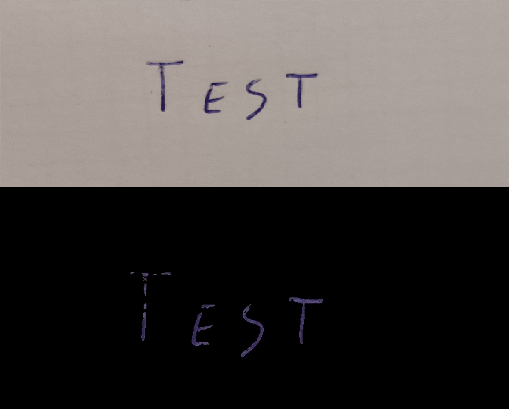 The goal is to extract handwriting from a picture of it, by removing the background. But I can't get it to work. It keeps showing with a black background instead of transparent. Loading a transparent PNG file from internet works, so that tells me it is caused by something in the process of conversion or image processing.
The methods are as follows, I also attached an example project:
Decoding the image and showing it in the view:
void ShowImage()
    {
        SKBitmap source = SKBitmap.Decode(AppResources.Handwriting); // JPG file format

        SKBitmap converted = ConvertToPng(source);

        // Add transparency
        SKBitmap result = AddTransparency(converted, 0.3f);

        // Show in view
        ImageView.Source = SKBitmapImageSource.FromStream(SKImage.FromBitmap((SKBitmap)result).Encode().AsStream);
    }

Converting the image (JPG) to PNG to support transparency:
    private static SKBitmap ConvertToPng(SKBitmap source)
    {
        SKData data = SKImage.FromBitmap(source).Encode(SKEncodedImageFormat.Png, 100);
        SKBitmap converted = SKBitmap.Decode(data);
        return converted;
    }

Adding transparency to the background:
    SKBitmap AddTransparency(SKBitmap bitmapSource, float treshold)
    {
        var bitmapTarget = bitmapSource.Copy();

        // Calculate the treshold as a number between 0 and 255
        int value = (int)(255 * treshold);

        // loop trough every pixel
        int width = bitmapTarget.Width;
        int height = bitmapTarget.Height;

        for (int row = 0; row < height; row++)
        {
            for (int col = 0; col < width; col++)
            {
                var color = bitmapTarget.GetPixel(col, row);

                if (color.Red > value && color.Green > value && color.Blue > value)
                {
                    bitmapTarget.SetPixel(col, row, color.WithAlpha(0x00));
                }
            }
        }

        return bitmapTarget;
    }