Sorry for the multiple topics here but this is my first time using the profiler and I'd like to bring up some issues, some of which maybe can be answered here, some of which maybe can help the profiler team move forward.
For reference, I've spent most of my .NET days programming video games, and as such have spent a lot of time with the CLR profiler, hunting down allocations and making sure the garbage collector is almost never running. By comparison to the free tool from nearly a decade ago (maybe a decade), the Xamarin Profiler is pretty bad.
Performance
The Xamarin Profiler completely kills my application. I have it taking snapshots ever 30 seconds, so I'm guessing it should be silent inbetween, but my Xamarin Forms app is nearly unusable. I click on a button and it takes ~5 seconds for the app to respond and move to the next screen.
Furthermore, the app itself, which nromally fires up in about 3-5 seconds takes > 1 minute to fire up, and I have to suppress the "app isn't responding" message on the emulator.
The profiler seems to be looking at memory many times - nearly one per second, rather than every 30 seconds...
Maybe this isn't the same as a snapshot but whatever it's doing, it's making my app run way slow.
I should point out that the CLR profiler, whcih seems to investigate and record every allocation can still be used on video games and they maintain 60 fps so long as they're not too complex. Whereas this is not taking snapshots of all allocations, and makes a Xamarin Forms app unusable.
I get it's not the same hardware or underlying tech but from a user experience, it seems unacceptable.
I should point out, if I manually set snapshots, then performance seems fine, and the snaphots behave as expected, but the setting for "every 30 seconds" seems to not do anything except make it take a snapshot every second.
Call Stacks/Object Graphs
I'd like to know the call stack or see an object graph of what is allocating so much memory in my app. In the CLR Profiler I'd see this neat ribbon-like visual where I could look at a type or a caller and follow them end to end, seeing what is allocating so much.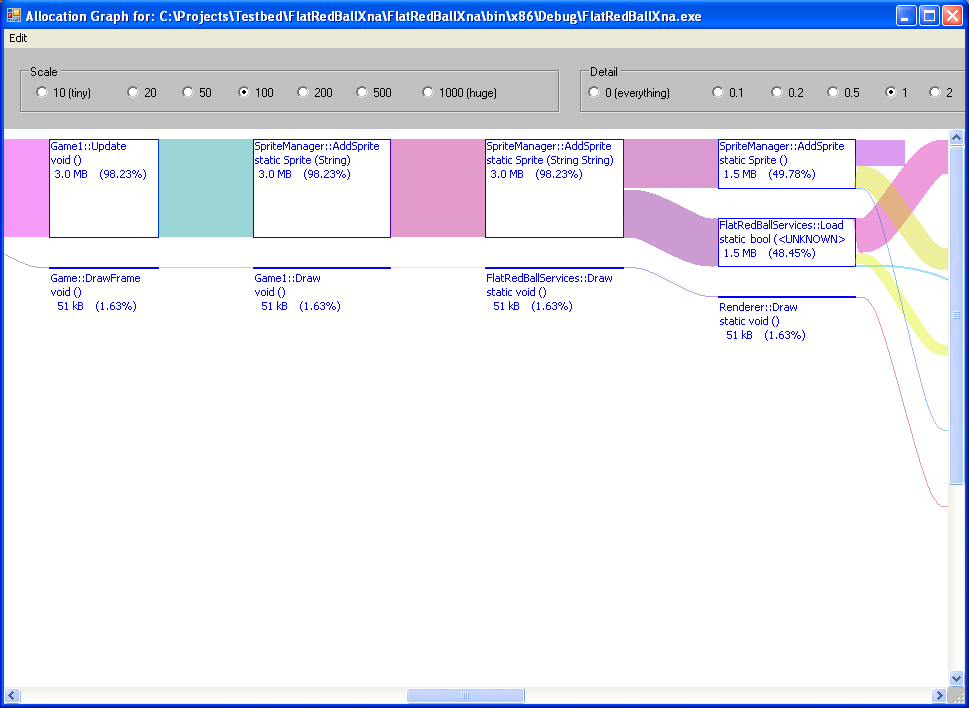 Here I seem to get no information at all. For example, I have lots of strings:
How do I know where those were allocated or what is holding on to those strings? I right-click on the Strings and select "Drill Down", only to get:
This tells me nothing. I would expect to see some kind of object graph by size. So I could tell "Oh, my Person class is holding on to 10 MB of strings, using 35% of all of the memory in my app". I have no idea how to tell this, and of anything that seems to be the most important thing in reducing memory usage.
Similarly the "Call Tree" tab doesn't tell me anything useful either:
When I view the Snapshots tab I can see the types of objects that are eating a lot of memory (this seems promising), but when I want to "Drill Down" to get more information, I get no information:
As mentioned above I'd like to get some kind of tree view where I can expand my objects to see what is using memory within the object.
Cost
The profiler is currently tied to VS Enterprise. I decided to give Enterprise a try (I work comfortably in Community), and if things worked out well enough maybe I'd consider upgrading to Enterprise to kill allocations in my apps....but as is it's definitely not worth it.