How to change the pin of a map?
Following this example: https://github.com/mrdnote/XamarinClustererDemo, I'm making an map with annotations.
I have already defined the image for clusters: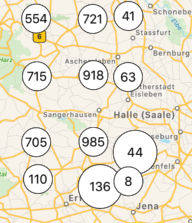 But this pin I don't understand how I can change:

Is there possible to change the pin? Because if I change with:
annotationView.Image and I'm giving my image, the image from clusters will be changed, but not the pins... And is very frustrating because I've searched a lot and I'm missing something because I can achieve what I want.
Tagged: