Objective Sharpie doesn't generate APIdefinition file for Statusgo.framework
Hi Folks,
I generated iOS build library for Status-Go library (https://github.com/status-im/status-go) which was written in Go language.
The output of status-go iOS library, the .framework will look like this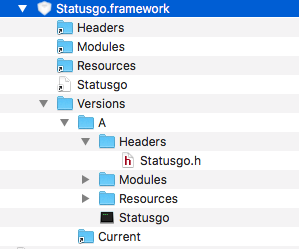 By using Objective Sharpie I am trying to generate APIdefinition and StrctsAndEnums files through command but its generating only StrctsAndEnums file. Please find the below image
Please help me how to generate APIDefinition file also.
Please find the attched Statusgo.h(Statusgo.txt) and generated StructsAndEnums.cs(.txt) file for your reference.
Thanks in Advance!