1 week into Visual Studio 2015 Community, Xamarin & FreshMVVM. Great environment.
I am trying to implement Cross Platform PCL Android and IOS camera app.
1) Downloaded github.com/jamesmontemagno/MediaPlugin. "MedialSample" solution example successfully runs on Android phone.
2) I modified Mark Ridland's app: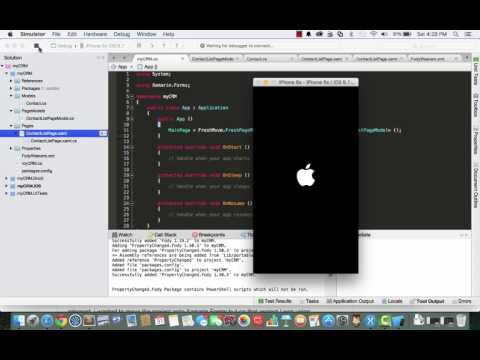 Nuget'ed MediaPlugin package to PCL project
Added Button and Image in Xaml
The Button "FreshMVVM Command" syntax, calls MediaPlugin.
Error message: "This functionality is not implemented in the portable version of this assembly.
You should reference the NuGet package from your main application project in order to reference the platform-specific implementation."
Please advise and send detailed code (new to XaMarin), Android Phone. Thanks.
==========
<Button Text="Photo" Command="{Binding PhotoCommand}"></Button>
<Image x:Name="myimage"/>


    public Command PhotoCommand
    {
        get
        {
            return new Command( async () =>
            {
                string eMsg;

                try
                {
                    //***** ERROR. Any call to "CrossMedia package"  **************/
                    await CrossMedia.Current.Initialize();
                }
                catch (Exception ex)
                {
                    /* ERROR                         
                     * This functionality is not implemented in the portable version of this assembly.  
                     * You should reference the NuGet package from your main application project in order to reference 
         * the platform-specific implementation.                         
                     */
                    eMsg = ex.Message;
                }

       //***** ERROR. Any call to "CrossMedia package"  **************/
                if (!CrossMedia.Current.IsCameraAvailable || !CrossMedia.Current.IsTakePhotoSupported)
                {
                    //DisplayAlert("No Camera", ":( No camera available.", "OK");
                    return;
                }

       //***** ERROR. Any call to "CrossMedia package"  **************/
                var file = await CrossMedia.Current.TakePhotoAsync(new Plugin.Media.Abstractions.StoreCameraMediaOptions
                {
                    Directory = "Sample",
                    Name = "test.jpg"
                });

                if (file == null)
                    return;

                //await DisplayAlert("File Location", file.Path, "OK");

                var page = FreshPageModelResolver.ResolvePageModel<ContactListPageModel>();
                global::Xamarin.Forms.Image image;
                image = page.FindByName<Image>("myimage");

                image.Source = ImageSource.FromStream(() =>
                {
                    var stream = file.GetStream();
                    file.Dispose();
                    return stream;
                });
            });    // return Command async
        } // get
    }  // PhotoCommand

==========