I am trying to use a custom font for my Navigation Page Titles.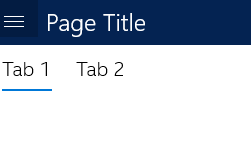 I have scratched out the unwanted details. I want to use a custom font for the Navigation Bar title, that reads - "Page Title".
I was able to customize the the tabbed page titles by adding a fontfamily to the TextBlock in PivotStyle.
Is there anyway of writing a similar style for Navigation Page? I am fairly new to UWP and this is my first application.
Also it'll be very helpful if you can even help me with customizing that thin horizontal blue line under the "Tab 1", and disable hover action for the Hamburger menu icon.
So, I am trying to find a solution to 3 problems:
1. Custom fonts for navigation bar title.
2. Change the Tabbed bar, selection color.(The thin blue line)
3. Disable hover action on the Hamburger menu icon.
It is really difficult to find any kind of resource for Xamarin.UWP. Please help. Thanks in advance